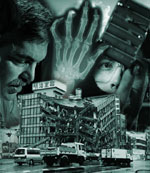 A leading engineering consulting firm dedicated to helping our clients solve their most challenging engineering problems.
Exponent Engineering, P.C. works in association with Exponent, Inc. to provide clients with a broad range of engineering and scientific consulting services.
Click here for more information on the services available through the combined resources of both companies.
"Exponent Engineering is a Professional Services Corporation authorized to provide engineering services in the states of New York, North Carolina, and Michigan."